MODERN DAIRY SHED
---
Easy to manage large number of animals
- Less labor required
- Saves animals from heat stress
by proper ventilation
---
COW CUBICLES
Cubicles are animal rest areas
- Hot dip galvanized pipes with
- proper angle required for
animal comfort
COW HEAD LOCK
Easy animals handling without
any health hazard.
- Hot dip galvanized with top
covering of plastic for less noice.
AUTOMATIC MANURE SCRAPPER
A Convenient and speedy tool
for removing manure
- Reduces labor and extra cost
for tractor and scraper.
COOLING FANS
- Both with direct drive and
belt drive technology.
- Air flow range from 33000 CFM to 45000 CFM.
- Very less power consumption.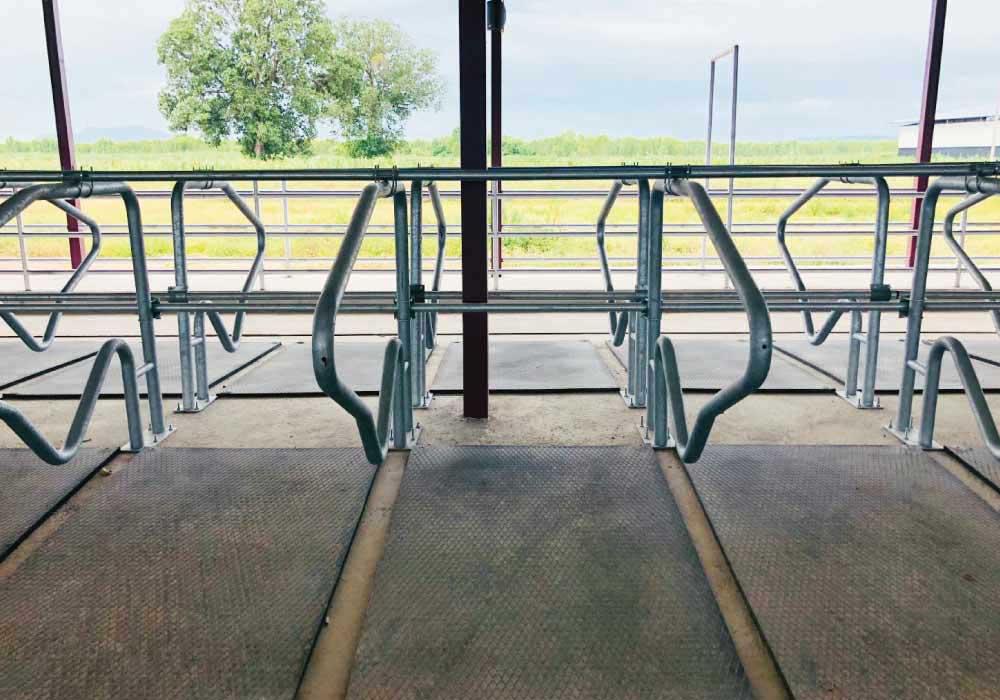 COW COMFORT MAT
- Very easy to clean, gives
comfort to animals.
- Reduces labor for filling of
sand and then cleaning from
drains.
AUTOMATIC COW BRUSH
- It is use to massage the cow automatically
- By increasing blood circulation,
it also increases milk yield.
- It increases skin shining by
increasing circulation to Skin
HYDRAULIC CATTLE CRUSH
- Used to hold animal for
medication, surgery and
Inseminations.
- Can be operated easily with
hydraulic system.
CALF HUTCH
- Used for calf care in first two
months of age.
- Ensure calf heath by
individual feeding and avoid
contamination
Are you looking to start a dairy farm? Best Dairy Farming Solutions in Lahore Pakistan, dairy farming business is a very hot topic as everyone finds it compelling and profitable. Unfortunately, many people fail and end up closing their dairy farms due to a lack of information and poor management. The dairy farm is a long term project which needs proper management like other businesses. Small to medium businesses take at least 3 to 4 years to establish and to expand.
What is the most difficult part of making a dairy farm? The difficult part of setting a good profitable dairy farm is the selection of high quality, high yielding, and environment suitable animals. This is the most time-taking and difficult step for a dairy farmer. One popular option is of imported cows. Many people would suggest not to go for imported cows as they are expensive and are not suitable for Pakistani weather but it could be your best investment because of milk yield and better breed as compared to our local animal breed. Imported cows can give average milk of 35-40 liters per day whereas local breeds give about a maximum of 15-18 liters per day
Best Dairy Farming Solutions in Lahore Environment.
You can get more profit from your dairy farm if your cows are happy and stress-free. This can be achieved by providing them with a good environment and better temperature with the help of fans, water sprinklers, and properly ventilated shed.
Food
The feed of your animals must be clean and fresh so that they can produce good quality milk. Take good care of lactating animals and pregnant animals. Make their feeding area separate. Lactating Holstein Friesian cows are fed 1 kg of dry matter feed per 1.75 liters of milk produced. It is better to use a Total Mixed Ration (TMR) wagon for feeding the cows.